Date
June 12-15, 2013
Venues
Serbian Academy of Sciences and Arts (SASA)
Knez Mihailova 35
11001 Beograd
W: www.sanu.ac.rs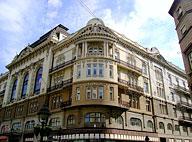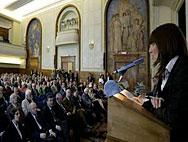 Humboldt club of Serbia was founded on 16th of October 1990 in the Festive Hall of SASA.
University of Belgrade
Studentski Trg 1
11000 Belgrade
W: www.bg.ac.rs



View Humboldt-Kolleg 2013 in a larger map
Language
The official languages are English and German. No simultaneous interpretation will be provided.
Badges
All participants will receive a personal badge upon registration. Participant is kindly requested to wear name badge when attending any meeting or social gathering. Only participants who are wearing their name badge will be admitted to the lecture halls. Please note: accompanying persons and exhibitors will not be admitted to the scientific sessions.
Coffee and tea breaks
During session-breaks coffee and tea will be served free of charge to delegates wearing name badges.
Electricity supply
Electricity in Serbia is supplied at 220V - 50Hz AC.
Shopping in Belgrade
Most shops in Belgrade are open from 08:00 to 20:00 hours, Monday through Saturday. Shoping centeres are open from Monday through Sunday from 8:00 to 22:00 hours.
Weather
The weather in Serbia in June is usually sunny. The average temperature is around 25°C.
Phone
Country code: 00381
Belgrade code: (0)11